The person who says he knows what he thinks but cannot express it usually does not know what he thinks. — Mortimer Adler
The standard decision-making framework
The GMs Index is a great checklist for budgets, organization charts and strategic plans, which will keep you from missing something.  The Center's core idea is that using standard terminology lets departments share their best ideas.
Saving one thousand emails
Meetings don't have to be unstructured free-for-alls that result in activity, but not progress.  The nine steps below will save you from wasting time, frustrating your colleagues, and making mistakes. Two hours of thinking will save a hundred hours of meetings and a thousand emails.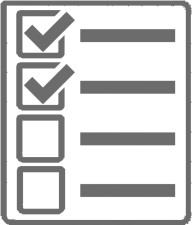 Nine steps to prepare on your own
Define the decision with a concise yes/no question

Check the Sectors page for what's unique to your situation
Check the Decisions page for ideas on a complex decision
Click through The GMs Index for the two or three relevant practices

Read a few of the Recommended Resources for each practice

Ask if anyone's made this decision before and how they made it

Draft a ½-page summary of the relevant facts

Take some quiet time to reflect

Decide who should participate (six at most)
People and organizations make decisions differently, but these steps get everyone focused no matter what their style or process.  Yes, there's risk in leading the decision-making, but there's also reward.
Five questions to discuss with the team 
(90 minutes)
The first meeting is not to decide, it's to prepare everyone's minds.
Is the question right?

Are these the most relevant terms and practices?

Do we define these terms in the same way?

Where do we disagree with the resources?

What other facts do we need?
While this meeting might feel unproductive, it's the best way to put everyone's perspectives and knowledge to work.  Just bringing the decision into focus often makes the answer obvious.
Some decisions are bigger than others
But for a big decision, use The Question Map and then the Cost/Benefit Analysis or other 1-page tools from The GMs Toolkit (where you'll find samples and instructions).  To implement the decision, try the 1-Page Project Planner and the Projects Summary.
You need to be a member to have access to the tools themselves.  Membership information