Gettin' good players is easy. Gettin' 'em to play together is the hard part. — Casey Stengel
The Center doesn't offer a rigid system because everyone's situation, style and knowledge are different.  This page helps people from different sectors get oriented and started.  Numbered links refer to terms in The GMs Index of Terms.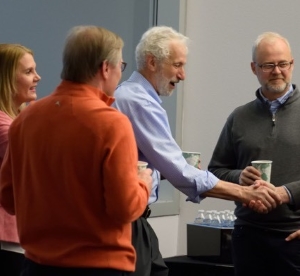 GOVERNMENT AGENCY
More people want government  to "act like a business," though some management practices do differ, such as organizational design, financing, budgeting and forecasting. But agency managers have things to teach the private sector: making long-term decisions, consensus-building and managing at a large scale.
Where to start: Explore 5.1.4 Project management. Big project teams shouldn't start until everyone's agreed on terminology and principles. Our Training Bureau can make things simpler and clearer--helpful when you're in the public eye.
LARGE BUSINESS
The GM's Index helps large teams in many different offices standardize their toolkit and vocabulary.  Public companies have particular governance and reporting issues: those members might explore the Recommended Resources at 1.4.1 Board of Directors and at 1.1 Ethics & the law.
Where to start:  Identify all the terms relate to your team's discipline, then share them with colleagues to learn if you define key concepts in the same way.  It is better to know you disagree than to plow ahead with fundamentally different approaches.
"The Center's Training Bureau helped us consolidate four agencies into one by using their Integration Checklist. It was rigorous, but our boards and funders were impressed by and supportive of this huge project." — Marcia Hendrickson, Executive Director
SMALL BUSINESS
Small business owners and managers wear many hats. These busy entrepreneurs ask big questions: How can I grow my business? How can I help all our people be more productive? What new products or services should we be working on? And,what are we missing?
Where to start: Big questions like, how can we grow? are really about several management practices. Our 1-Page Table of Priorities™ will get you and your teams focused fast on the key issues, and our trainers can help you put their ideas to work right away.
STUDENT
Start your management education with a sturdy framework. Learning is more fun when you can connect all you're studying. How do marketing and sales relate? How do sales link to operations? What are the HR implications of new product development? Great managers help everyone see how they connect.
Where to start:The Center offers a certification in general management which will focus on the terms and practices connect when making a major decision.
START-UP
Some start-ups are launched by people with little management experience or training. The Center provides an at-a-glance map of all the issues you might need to consider.
Where to start: New entrepreneurs should click through The GM's Index of Terms sitting next to a mentor. This will help you sort your priorities, and the curated Recommended Resources will quickly teach you the fundamentals. Your local Small Business Administration office has free resources for you.
NON-PROFIT (NGO)
Some management practices are indeed unique to non-profits, but they're in the Index, too: 2.4.6 Advocacy, 5.1.5 Volunteer managementand 6.4.3 Fund development.  While the semantics can also differ--service agency or school managers might prefer "Outreach" to "Marketing"--the principles are the same.
Where to start: Using the Center' tools is a good way to gently get people using the standard language of management.  This slight shift in perspective will be reinforced by the positive reaction from funders and outside directors from the corporate world.