Out of intense complexities, intense simplicities emerge.- Winston Churchill
Strategic Planning
Good managers ask great questions:  Planning should be begin with "question discovery," where everyone poses questions and the facilitation rule is:  no answers allowed.  Agreeing on your top 6 questions is 90% of success.  Use The GMs Index to make sure no person or perspective dominates.  Read the book.
Training model:  We don't tell you what your plan should be.  Instead, we train you to use simple, standard tools for making your own plan.  Your plan will be summarized in a 1-page Goal Tree (sample).  This proposal template shows you how it's done.  Its toolset helps answer the core planning questions:
Why are we doing this?
Where are we going?
How are we going to get there?
Operational analyses
The tools in The GMs Toolkit can be used for different kinds of analyses:
Risk Assessment
Cost/Benefit Analysis
Operational Self-Audit
Integration Checklist
Project Resource Allocation
Competitor Analysis
Succession planning
Our succession and development plans ensure continuity in growth throughout the business--it's not just for the CEO.  These plans fill the gap between management abilities and capacity today and what's needed to fulfill the strategic plan.  It anticipates new skills and knowledge as well as planned and unplanned retirements and vacancies.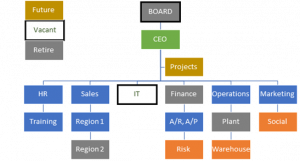 Strategic facility planning
A major facility project forces decisions about almost every management issue:  marketing, staffing, finance, systems and operations.  Our Integrated Facility Planning model has helped CEOs build business cases for hospitals, offices, factories, schools and even a bratwurst plant.